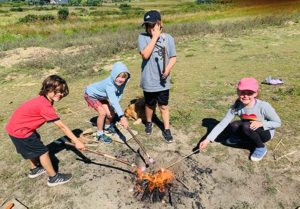 In our growing modern society kids seem to be less connected in the world around them preferring to play computer games or watch TV.
Our kid's adventure camps are an amazing way to get children excited about the great outdoors. We have a heavy focus on personal development, self-confidence and team building.
A carefully structured adventure week can be a truly life changing experience for these young individuals and potentially one they will never forget.
Activities included in these weeks are:
Rock climbing
Coasteering
Abseiling
Bush craft (overnight camps optional)
Kayaking
Cycle tours
Boogie-boarding
Sea shore seafaris and much more.
Combined with our highly motivated, enthusiastic, qualified and passionate staff these adventure weeks prove to be a success on every occasion.
Bookings are now open for half term and summer holidays.
Contact us for more details.
Price:
from £205 per child per week.

Wild Adventures for Children & Adults